About 32 Dental Lane
Although our state-of-the-art practice is new, our team of dental providers has over 20 years of experience serving patients. Dr Amrita Sachdeva (Dentist) founded our Springwood office to be closer to family and community, enriching the relationships between our patients, staff and family members of our own.
What Makes Us Different
Our practice is designed to blend experience with cutting-edge technology. Our highly experienced, qualified dentists aim to provide the best level of service and care for every patient. We serve a wide range of patients, from young children to retirees.
Here, you'll find a one-stop location for every member of your family. Providing services from children's dentistry and orthodontics (including Invisalign braces) to complex smile makeovers and aesthetic dental services, we're able to offer everything your smile needs under one roof.
MEET OUR TEAM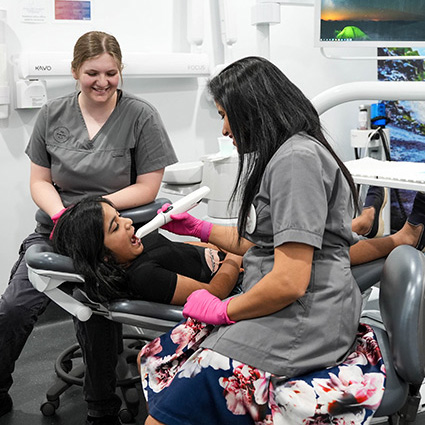 State-of-the-Art Technology
We've invested in high-resolution imaging and technology like an in-house OPG, intraoral camera and DIAGNOcam (a digital cavity detection tool) to enhance your diagnostic and consultation processes. These resources allow us to better educate our patients about their oral health and communicate our findings in an easier, visual manner.
Thanks to early screening, you and your family can capitalise on prevention-based, minimally-invasive services that preserve your oral health in the years ahead.
Financing Options
Our practice is in-network with NIB and accepts Child Dental Benefits Scheme coverage for qualifying paediatric patients. Flexible financing plans are also available.
Every patient requiring treatment will receive a personalised care plan, reviewing the options available, applicable fees, and a list of appointments required. We'll be happy to answer any questions you have, as well as discuss alternative therapies available.

About 32 Dental Lane | (07) 3299-2775