General Dentistry in Springwood
& Neighbouring Communities
General dentistry focuses on the diagnosis, treatment, and overall maintenance of oral health.
At
32 Dental Lane
, we offer the following services:
Check-up and Clean
Regular check-ups and cleanings at the dentist are essential for good oral health. Routine visits to the dentist allow for an early detection of oral problems, such as cavities, gum disease, or other issues that may affect your teeth and gums.
Children's Dentistry
We are passionate about helping kids of all ages have an enjoyable dental experience at every visit, so they will have a positive attitude about lifelong dental care.
The Child Dental Benefits Schedule (CDBS) is accepted at the practice. This program is available to eligible children and teenagers between the ages of 2-17.
Emergency Treatment
Whether you wake up in the middle of the night with a toothache or your child chipped a tooth while playing sport, dental emergencies happen when you least expect it. We're here to help address your dental emergency as efficiently as possible.
Extractions & Wisdom Tooth Removal
While it's always ideal to keep your teeth as long as possible, there are times when extraction is the best option for a patient's oral health. Teeth extractions are necessary when the tooth is no longer saved by a restorative procedure. This could be due to extensive decay, periodontal disease, failed root canal therapy, trauma, or other issues.
We also offer wisdom tooth removal when these third molars cause pain or are not coming in properly.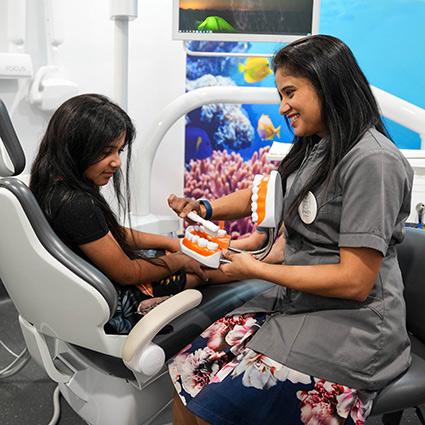 Programs for Kids & Seniors
We are pleased to offer special programs within the practice for children and seniors. For kids, we partner with local childcare and kinders to help kids feel comfortable with the dentist and understand good oral health from a young age to build good habits for life. For seniors, we provide free consultations for all treatments.
Helping Nervous Patients Feel at Ease
We understand that many people experience dental anxiety. That's why we offer nitrous oxide ("happy gas"), which is a lighter type of sedation. This colourless and relatively odorless gas is inhaled through a mask placed over the nose during dental procedures. It helps reduce anxiety by producing a relaxed, euphoric feeling in the patient.
Book an Appointment
Contact us today to schedule an appointment!
BOOK ONLINE

General Dentistry in Springwood, Rochdale & Underwood QLD | (07) 3299-2775