Orthodontics in Springwood & Neighbouring Communities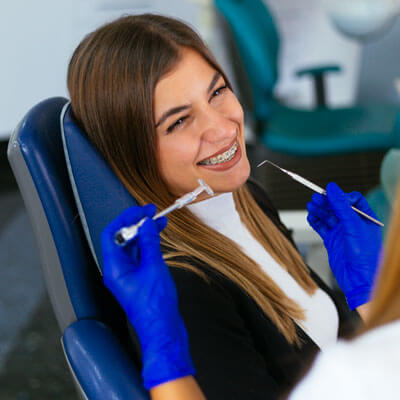 A healthy, beautifully aligned smile is one of the best accessories anyone can possess. At 32 Dental Lane, we provide high-quality orthodontic options for everyone, from teens to seniors. Here's a look at each:
Traditional Braces
Traditional braces are metal brackets attached to the front surfaces of your teeth and connected with an archwire. This system gradually moves your teeth into their correct positions over time. Traditional braces offer numerous benefits for people looking for an effective way to straighten their teeth and correct any misalignment issues they may have been struggling with.
For patients who choose traditional braces, we normally do ceramic braces on the top, which are more aesthetically pleasing, and metal ones on the bottom.
Invisalign Clear Aligners
Want to straighten your smile without everyone knowing it? With Invisalign clear aligners, you can! This discreet and comfortable orthodontic option can address various issues, including gapped and overly crowded teeth, overbite, underbite, open bite, and crossbite.
The Invisalign system is ideal for those whose main concern is cosmetic and requires less extensive change. For optimal results, patients must comply with wearing the aligners for 22-plus hours per day. In some cases, kids or teens may be better suited to braces for this reason.
Another benefit of Invisalign treatment is we have the ability to do a scan and show a patient a computer-generated simulation of how their teeth will appear after treatment.
Clear Aligners All Costs Included for $4500
What Can I Expect?
We'll begin by examining your mouth to determine the best course of care, which may include traditional metal braces, clear aligners, or the need for an expander prior to treatment. We'll discuss all your options with you so that there aren't any surprises, as well as communicate the cost of your treatment.
Frequently Asked Questions
Orthodontics is a branch of dentistry that focuses on diagnosing, preventing, and treating malocclusions or bad bites, often leading to crooked teeth and improper jaw position. It uses appliances such as braces and retainers to correct the alignment of teeth, jaws, and faces.
The duration of treatment for orthodontic patients can vary depending on the complexity of a patient's case.
Book A Free Consult For Aligners
Interested in aligners? Take that first step towards a straighter smile by scheduling a free consultation and scan with one of our dentists!

Orthodontics in Springwood, Rochdale & Underwood QLD | (07) 3299-2775