Cosmetic Dentistry in Springwood
& Neighbouring Communities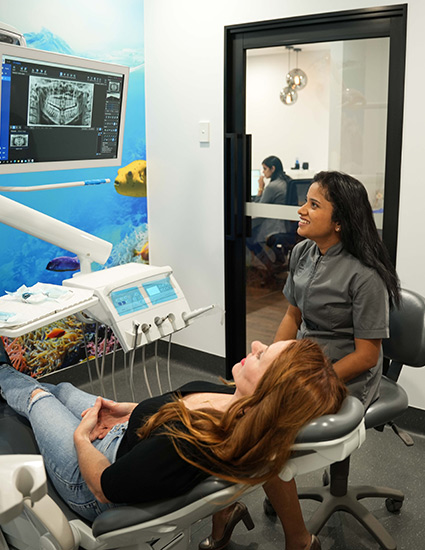 It's no surprise that a stunning smile is a massive confidence booster! If there are some things about your smile you'd like to change, we can help you achieve your goals. At 32 Dental Lane, our dedicated team can provide a customised plan to give you the smile you've always wanted!
Teeth Whitening
Turn tarnished teeth into a set of magnificent pearly whites with our teeth whitening options. We offer both in-chair Zoom whitening that takes just one session, and take-home trays that allow you to brighten your smile from the convenience of home. Our whitening options are efficient and considered safer than over-the-counter ones.
Dental Veneers
Want to achieve a beautiful "celebrity" smile? If you have gaps, stained, or chipped teeth, dental veneers can conceal such imperfections. These thin shells are made from porcelain that attach to the front of teeth, and provide a bright, natural look that can last up to 10 years or longer. These tooth coverings can also be used to adjust the shape of teeth to create a more pleasant appearance.
Smile Makeovers
A smile makeover is a completely unique treatment plan that looks at the individual patient and is developed by our dentists to help you achieve your smile goals. This treatment is ideal for someone who isn't happy with the look of their teeth, the colour, shape, cracks or chips, and even misalignment problems or missing teeth.
Nitrous Oxide Available
Because many people feel anxious about visiting the dentist, we offer
nitrous oxide
("happy gas"). A lighter type of sedation, nitrous oxide is a colourless and relatively odorless gas that's inhaled through a mask placed over the nose during dental procedures. It helps reduce anxiety by producing a relaxed, pleasant feeling in the patient.
Book a Consultation
Take that first step towards achieving a beautiful and more confident smile by scheduling a consultation today. We are pleased to offer convenient payment options!

Cosmetic Dentistry in Springwood, Rochdale & Underwood QLD | (07) 3299-2775