Teeth Whitening in Springwood & Neighbouring Communities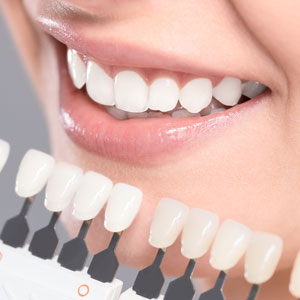 Teeth whitening can help you put your best smile forward, and
32 Dental Lane
makes it easy.
Our dentists
offer both in-chair and take-home whitening options that are efficient and considered safer than over-the-counter products.
In-chair Whitening
In-chair whitening is done in one session, using Zoom teeth whitening products. You should plan to stay in our practice for an hour to an hour and a half, and you will see instant results at the end of the session. Because your mouth is open for this process, it can become very dry and you may experience some discomfort. We'll give you pain relief if you are uncomfortable. When you leave, we will give you sensitivity-relief toothpaste and gel to use at home.
For 48 hours after your whitening session, you should avoid hot or cold foods, as well as any food or drink with intense colour such as red wine and blueberries. We will go over these aftercare recommendations with you before you leave our practice.
Take-home Whitening
You can choose between daytime or nighttime whitening. You'll come into the practice for impressions, so we can make the trays for you. We'll give you the whitening gel and the appropriate instructions for day or night whitening. Your take-home kit will include two trays, four syringes, a case for the trays and instructions. Results vary, but it typically takes two to three weeks to see results.
FAQ
Is teeth whitening safe for tooth enamel?
Yes, our in-chair and take-home whitening procedures are safe for your tooth enamel. The dose of the whitening agent is very controlled. Off-the-shelf whiteners use a higher concentration of whitener, and when not used properly, those can cause damage to the enamel. Our products don't cause damage.
How long will my teeth stay white?
Results vary, but most people can expect Zoom in-chair whitening to last for up to a year. Take-home whitening options will last a few months.
Not everyone is a suitable candidate for teeth whitening. A free consultation is offered to all patients prior to treatment to determine if we can proceed with the teeth whitening treatment. A scale and clean is recommended prior to your teeth whitening treatment to ensure you achieve the best results. Please contact the practice with any questions and to book your free consultation.

Teeth Whitening in Springwood, Rochdale & Underwood QLD | (07) 3299-2775