Meet Dr Amrita Sachdeva (Dentist)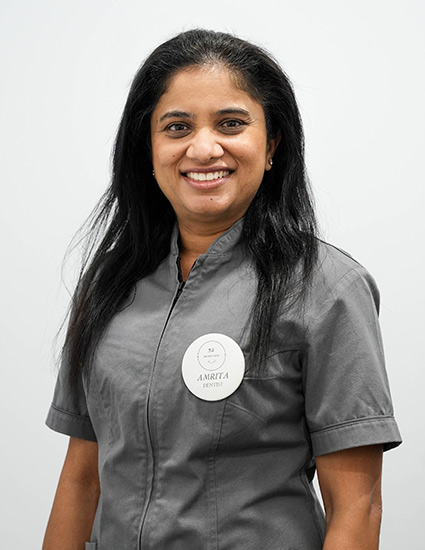 Dr Amrita Sachdeva (Dentist) and her husband relocated to the Springwood area to establish a more family-orientated practice closer to their children's schools and hometown. Dr Amrita is originally from India, but has been practicing for over 20 years. She passed her Australian Dental Council Exam in 2008.
Growing up, Dr Amrita was interested in both medical and dental fields. But dentistry became her sole focus, as she saw the difference she could make in people's everyday lives. Between treating dental disease, completing cosmetic smile makeovers, and facing the new challenges of unique smiles every day, her role as a family dental provider is extremely fulfilling.
Special Training and Interests
Although Dr Amrita is a family dentist offering comprehensive oral health services, she has a special interest in aesthetic smile makeovers (cosmetic dentistry) and orthodontic therapy, including Invisalign aligners. With an artistic eye for precision and continued education in cosmetic techniques, she enjoys transforming the smiles and lives of her patients.
Dr Amrita has qualifications in orthodontics and Invisalign clear braces, and is a Fellow of the Royal Australasian College of Dental Surgeons. She is an active member of the Australian Dental Association and Progressive Orthodontic Seminar Alumni.
EXPLORE OUR SERVICES

Hobbies Outside of Work
Dr Amrita's affinity for detail, artistry and careful planning spills over into one of her favourite pastimes: cake decorating. When she isn't at work as a dentist, she enjoys working as a cake designer, making novelty cakes for her family and friends to enjoy.
Outside of spending time with her two children, she also takes annual trips to underserved villages to provide no-cost dental services to at-risk communities.
Reserve an Appointment Today
Dr Amrita and her husband both offer family, cosmetic and children's dentistry—as well as orthodontics—under one roof. Contact our office today to reserve your first visit. We're open Saturdays.

Dr Amrita Sachdeva (Dentist) | (07) 3299-2775