Custom Mouthguards in
Springwood & Neighbouring Communities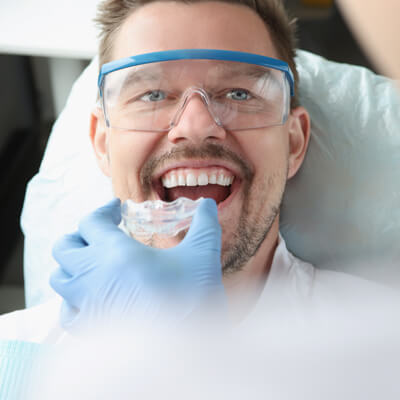 The best way to shield your smile while engaging in contact sports is with a mouthguard, an essential piece of protective equipment for both children and adult athletes. These mouth protectors provide a cushion between the teeth and gums, helping to absorb any impact that may occur during physical activity or contact sports.
Mouthguards also may help prevent concussions by reducing the risk of jaw injuries and protecting against
dental damage
.
Why Get Your Appliance at 32 Dental Lane
Mouthguards made at the dentist are superior to over-the-counter models because they are custom-made. This allows them to be more comfortable and form fitted to the wearer's mouth, which helps ensure that they stay in place and protect the teeth while they are in use.
While you're shopping for your child's tennis shoes or piece of sports equipment, stop by our practice, conveniently located in the Arndale Shopping Centre, to have a mouthguard made for just $99.
Frequently Asked Questions
Why do I need to wear a mouthguard when playing sports?
Wearing a mouth protector during sports activities is important in protecting your teeth, gums and other soft tissue from trauma. It also helps cushion the jaw when an athlete sustains a blow to the head or face region.
Depending on how often you use your mouthguard, it may need to be replaced every three months or sooner if it becomes worn out and does not fit properly any longer.

Custom Mouthguards in Springwood, Rochdale & Underwood QLD | (07) 3299-2775