Halitosis Prevention in
Springwood & Neighbouring Communities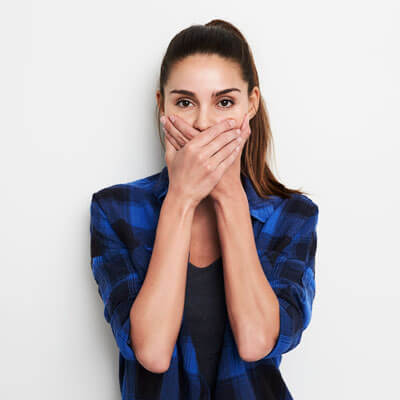 Bad breath is an embarrassing and unpleasant condition that affects many people. If you're struggling with halitosis, our practice helps you achieve a fresh start for your breath. We take a unique approach to halitosis care, focusing on education, prevention, and personalised care to bring our patients the best possible results.
Causes of Bad Breath
Poor oral hygiene is the most common cause of bad breath. When you don't brush and floss regularly, bacteria and food particles may build up in your mouth, leading to a foul odour. Other factors that contribute to bad breath include dry mouth, certain foods and drinks, tobacco use, and medical conditions such as gum disease and sinus infections.
Prevention and Care
Preventing bad breath starts with good oral hygiene habits. Brushing and flossing regularly, using mouthwash, and cleaning your tongue all help keep your breath fresh. Drinking plenty of water and avoiding foods and drinks that cause bad breath may also be beneficial.
At 32 Dental Lane, we take a tailored approach to halitosis. We work with our patients to identify the underlying cause of their bad breath and develop a unique care plan. This may include deep cleaning, gum disease therapy, or addressing medical conditions that contribute to bad breath.
Benefits of Care With Us
When you choose our practice for halitosis prevention, our team of friendly and experienced professionals focus on you. We take the time to educate our patients about the causes of bad breath and how to prevent it. We also use the latest technology and techniques to ensure the best possible results for our patients.
Book Your Appointment Today
Don't let bad breath hold you back any longer. Book an appointment with us today for a check-up and clean. We'll help you achieve a fresh start for your breath, and enjoy the confidence that comes with a healthy smile.

Halitosis Prevention in Springwood, Rochdale & Underwood QLD | (07) 3299-2775